This blog was first compiled by Thomas Baldwin, January 25, 2016. I have now expanded this blog to include nearly a dozen articles (sources) to document my theme here. Read and "enjoy" how Hillary Clinton (and Slick Willy) have manipulated the system to deal with billions of dollars of government funds granted to corporations, and enrich their Foundation to at least two billion dollars and their personal wealth to nearly 100 million dollars. Not bad for an ex-president who also wrecked our economy with NAFTA, destruction of the welfare system, deregulated over the counter derivative transactions in future markets, and set the stage for the great financial collapse of 2008 with the repeal of Glass-Steagall! Now add to this numerous violations of the Espionage Act. If the FBI does not have sufficient information to recommend an indictment, then it is either hopelessly corrupt or incompetent. Americans willing to allow this criminal pair to live in THEIR White House again, need to have their sanity checked!!
The U.S. arms industry has all but abandoned its traditional allies in the Republican party and is putting their money on Hillary Clinton.
ALTERNET.ORG
_______________________________________________________________________________________
Clinton tops list of candidates backed by US weapons-makers
Published time: 16 Dec, 2015 00:57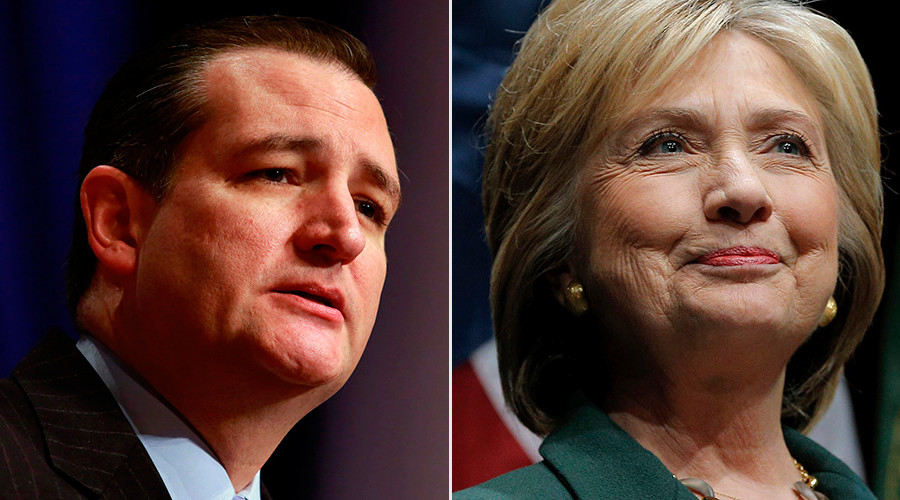 With the war on terror swelling their stock prices, the US defense industry is spending at least some of the cash to support their preferred presidential candidates. Hillary Clinton tops the list, followed by Ted Cruz, Jeb Bush and Bernie Sanders as #6.
Clinton, the Democratic frontrunner, has received almost $95,000 in contributions from the defense industry, according to the Federal Election Commission (FEC) data for the current presidential race compiled by the Center for Responsive Politics. In second place, with a take of $82,582, is Senator Ted Cruz of Texas, a strong contender for the Republican candidacy.
Though he is currently polling at five percent with the GOP voters, Jeb Bush is the third most popular recipient of arms-makers' donations, with $45,450. The hawkish South Carolina Senator Lindsey Graham received $36,275, while the dovish Kentucky Senator Rand Paul raked in $30,880, rounding off the top five.
Vermont Senator Bernie Sanders, Clinton's challenger for the Democratic Party nod, came in at number six, with $28,500 in contributions.
Ben Carson has attracted only $24,206 in contributions, despite his hard line on security and a good standing in the polls.
While it is possible that at least some donations to Cruz are driven by the fact that he chairs the Senate Commerce Subcommittee on Space, Science and Competitiveness – of interest to aerospace companies, for example – Florida Senator Marco Rubio also sits on that subcommittee, yet has received less than $15,000 in contributions.a
He might be riding high in the GOP polls, but Donald Trump ranks pretty low with the lords of war: he is in the 15th place on the list, with just $3,787 in donations. This puts Trump behind Wisconsin governor Scott Walker ($5,595), who dropped out of the race in September.
____________________________________________________
Clinton Foundation Donors Got Weapons Deals From Hillary Clinton's State Department
___________________________________
________________________________________________________________________________________
CAREER PROFILE (SINCE 1989)
Top Contributors
Senator Hillary Clinton
Campaign Finance Cycle:
2008
2006
2004
2002
Career
| Contributor | Total | Indivs | PACs |
| --- | --- | --- | --- |
| Citigroup Inc | $824,402 | $816,402 | $8,000 |
| Goldman Sachs | $760,740 | $750,740 | $10,000 |
| DLA Piper | $700,530 | $673,530 | $27,000 |
| JPMorgan Chase & Co | $696,456 | $693,456 | $3,000 |
| Morgan Stanley | $636,564 | $631,564 | $5,000 |
| EMILY's List | $609,684 | $605,764 | $3,920 |
| Time Warner | $501,831 | $476,831 | $25,000 |
| Skadden, Arps et al | $469,290 | $464,790 | $4,500 |
| University of California | $417,327 | $417,327 | $0 |
| Sullivan & Cromwell | $369,150 | $369,150 | $0 |
| Akin, Gump et al | $364,478 | $360,978 | $3,500 |
| Lehman Brothers | $362,853 | $359,853 | $3,000 |
| 21st Century Fox | $340,936 | $340,936 | $0 |
| Cablevision Systems | $336,613 | $307,225 | $29,388 |
| Kirkland & Ellis | $329,141 | $312,141 | $17,000 |
| National Amusements Inc | $328,312 | $325,312 | $3,000 |
| Squire Patton Boggs | $328,306 | $322,868 | $5,438 |
| Greenberg Traurig LLP | $327,890 | $319,790 | $8,100 |
| Corning Inc | $322,450 | $304,450 | $18,000 |
| Credit Suisse Group | $318,120 | $308,120 | $10,000 |
This table lists the top donors to this candidate in 1999-2016. The organizations themselves did not donate, rather the money came from the organizations' PACs, their individual members or employees or owners, and those individuals' immediate families. Organization totals include subsidiaries and affiliates.
_____________________________________________________________________________________
Clinton Foundation
From Wikipedia, the free encyclopedia
Clinton Foundation
Founded
1997[1]
2001[2]
Founder
Bill Clinton, former President of the United States
Purpose
Humanitarian
Location

Area served

Worldwide

Key people

Revenue

$214 million in 2012;[2]
$262 million in 2013[3]
$223 million in 2015[1]

Employees

350 in 2013[2]
2,000 in 2015[1]
Mission
"To bring people together to take on the biggest challenges of the 21st century"
Website
http://www.clintonfoundation.org/The Clinton Foundation (originally founded in 2001 as the William J. Clinton Foundation,[4] and called during 2013–15 the Bill, Hillary & Chelsea Clinton Foundation[5]) is a nonprofit corporation under section 501(c)(3) of the U.S. tax code. It was established by former President of the United States Bill Clinton with the stated mission to "strengthen the capacity of people throughout the world to meet the challenges of global interdependence." The Foundation focuses on improving global health and wellness, increasing opportunity for women and girls, reducing childhood obesity and preventable diseases, creating economic opportunity and growth, and helping communities address the effects of climate change. The Foundation works principally through partnerships with like-minded individuals, organizations, corporations, and governments, often serving as an incubator for new policies and programs. They have offices located in New York City and Little Rock, Arkansas.
The Clinton Foundation encompasses a number of different efforts and entities, including the Clinton Health Access Initiative (CHAI, spun off into a separate but related organization in 2010), the Clinton Global Initiative (CGI, split off after 2009 but reintegrated after 2013), Clinton Global Initiative University (CGI U), the Clinton Climate Initiative (CCI), the Clinton Development Initiative (CDI), the Clinton Economic Opportunity Initiative, the Clinton Giustra Sustainable Growth Initiative, the Clinton Health Matters Initiative (CHMI), the Alliance for a Healthier Generation, and the No Ceilings Project. However, there is criticism that the foundation becomes a tool of the permanent campaign for Clinton family's political activities.[6]
Through 2014 the foundation had raised almost $2 billion from U.S. corporations especially Wall Street; foreign governments and corporations; political donors; and various other moneyed interests.[3] During its lifetime the foundation has received praise from philanthropic experts and has had support from both Democrats and Republicans, with the latter including members of the George W. Bush administration.[3] Charitable grants are not a major focus of the Clinton Foundation, which instead keeps most of its money in house and hires staff to carry out its own humanitarian programs.[7] Because of this unusual structure for a foundation, Charity Navigator, a charity watchdog, has said it does not have a methodology to rate the Clinton Foundation.[7] Nonetheless, they added the foundation to their charity "watch list" in April 2015; it was removed from the "watch list" in December 2015 after the charity posted amended tax returns and a public memo on its website.[8] A different charity monitor, theAmerican Institute of Philanthropy, says that 89 percent of the foundation's money goes toward its charitable mission and gave the foundation an A rating for 2013.[1]
Questions have been raised about the foundation's financial practices, about its fundraising from foreign governments and corporations, about the transparency of its reporting of its donors, and about possible conflicts of interest between donations to the foundation and the actions of Hillary Clinton when she was U.S. Secretary of State during 2009–13 and in connection with her subsequent 2016 presidential campaign.[2][9][10][11][12](See also: Transparency of Clinton Foundation.)
________________________________________________________________________________________
Half of Hillary Clinton's Speaking Fees Came From Groups Also Lobbying Congress
Groups with giant lobbying budgets gave Clinton big speaking fees ahead of 2016 presidential campaign
Almost half of the money from Hillary Clinton's speaking engagements came from corporations and advocacy groups that were lobbying Congress at the same time.
The Democratic presidential candidate earned $10.2 million in 2014, her first full calendar year after leaving the State Department. Of that, $4.6 million came from groups that also spent on lobbying Congress that year, according to data compiled by the nonpartisan Center for Responsive Politics.
In all, the corporations and trade groups that Clinton spoke to in 2014 spent $72.5 million lobbying Congress that same year.
Asked Tuesday if there were conflicts of interest in speaking to these groups, Clinton was curt with reporters in Cedar Falls, Iowa. "No," she said.
"Obviously, Bill and I have been blessed and we're very grateful for the opportunities that we had but we've never forgotten where we've come from," she added.
But the speaking fees were more about where they were going next.
| | | |
| --- | --- | --- |
| Name | 2014 Lobbying Spending | Clinton Speaking Fee |
| General Electric | $20,085,000 | $225,500 |
| Biotechnology Industry Organization | $10,186,000 | $335,500 |
| Qualcomm Inc | $9,530,000 | $125,000 |
| Pharmaceutical Care Management Assn | $4,284,916 | $225,500 |
| National Auto Dealers Assn | $3,657,000 | $225,500 |
| Cisco Systems | $3,450,000 | $325,000 |
| Advanced Medical Technology Association | $3,392,000 | $265,000 |
| Ameriprise Financial | $3,390,000 | $225,500 |
| Novo Nordisk Pharmaceuticals | $3,008,000 | $125,000 |
| eBay Inc | $2,544,325 | $315,000 |
| Xerox Corp | $1,435,000 | $225,000 |
| Institute of Scrap Recycling Industries | $1,380,000 | $225,500 |
| Premier Health Alliance | $1,258,696 | $225,000 |
| Council of Insurance Agents & Brokers | $1,083,180 | $225,500 |
| United Fresh Produce Assn | $1,040,000 | $225,000 |
| Salesforce.Com | $610,000 | $451,000 |
| National Council for Behavioral Health | $600,356 | $225,500 |
| Corning Inc | $600,000 | $225,500 |
| Deutsche Bank AG | $600,000 | $280,000 |
| California Medical Association | $350,000 | $100,000 |
| Total | $72,484,473 | $4,575,000 |
For critics, the arrangement shows that many of people who booked an appearance saw it as another way to gain influence with a leading contender to become the next President.
"It's big money. They're spending it because they have far greater sums riding on those decisions that they're trying to shape," said Sheila Krumholz, executive director of the Center for Responsive Politics. "Corporations or associations must justifiably make these investments because everyone knew for many years that Clinton would always remain a power broker. Every man or woman on the street thought Hillary Clinton would run again."
______________________________________________________________________________________
Hillary Clinton's Biggest Campaign Bundlers Are Fossil Fuel Lobbyists
Clinton's top campaign financiers are linked to Big Oil, natural gas and the Keystone pipeline.
WASHINGTON — Nearly all of the lobbyists bundling contributions for Democratic presidential candidate Hillary Clinton's campaign have at one time or another worked for the fossil fuel industry.
A list of 40 registered lobbyists that the Clinton camp disclosed to the Federal Election Commission on Wednesday revealed a number of Democratic Party lobbyists who have worked against regulations to curb climate change, advocated for offshore drilling, or sought government approval for natural gas exports.
Clinton, the former secretary of state, has called climate change the most "consequential, urgent, sweeping collection of challenges we face as a nation and a world" and says it would be a major focus of her administration if she wins the White House. But having so many supporters who have sold their services to fossil fuel companies may complicate her emphasis on pro-environment policies.
Scott Parven and Brian Pomper, lobbyists at Akin Gump Strauss Hauer & Feld, have been registered to lobby for the Southern California-based oil giant Chevron since 2006, with contracts totaling more than $3 million. The two bundled Clinton contributions of $24,700 and $29,700, respectively. They have helped Chevron over the years resist efforts to eliminate oil and gas tax breaks and to impose regulations to reduce carbon emissions.
The two Clinton bundlers also were part of a much-criticized campaign by Chevron to manipulate Congress into inserting language into the Andean Trade Preferences Act that would require Ecuador to dismiss a longstanding lawsuit against the company for polluting the Amazon jungle. Democratic lawmakers pushed back against the campaign and the lawsuit is continuing.
One prominent lobbying topic embraced by Clinton bundlers is the expansion of liquefied natural gas exports and federal approval of new LNG terminals.
Ankit Desai, vice president for government relations at top LNG exporter Cheniere Energy, bundled $82,000 to the Clinton camp, with much of it coming from Cheniere Energy executives. Cheniere executives, including Desai, have donated $38,800 to Clinton's campaign.
The company has lobbied hard in Washington and maintains close ties to the Obama administration. The company won the first approval to export gas to countries outside of U.S. free-trade agreements. The company is seeking approval to open additional terminals to export LNG, and will likely need a friend in the White House come 2017.
____________________________________________________
Hillary Clinton's 'enemies' are actually some of her biggest financial supporters
 (With enemies like these who needs friends??)
Published on Oct 14, 2015
Subscribe to TYT Nation: http://www.youtube.com/tytnation
"In an exchange toward the end of the Democratic presidential debate in Las Vegas on Tuesday, the candidates were asked who their biggest enemies had been over the course of their careers. Clinton responded by saying, "In addition to the NRA, the health insurance companies, the drug companies, the Iranians — probably the Republicans."
It is true that the National Rifle Association and the Republicans have been Clinton's nemeses, and she has been involved in tense negotiations about international policy toward Iran. But health insurance companies and drug companies have been some of her biggest financial supporters.
In 2008, Clinton was the among the three biggest recipients of campaign cash from pharmaceutical-related companies, according to data compiled by the Center for Responsive Politics. In all, the watchdog group reports that she raised $738,000 from employees of pharmaceutical manufacturers and companies classified as "Pharmaceuticals /Health Products." The center reports that Clinton also raised more than $1.2 million from the insurance industry — which includes health insurers."
http://www.ibtimes.com/political-capi…
______________________________________________________________________________________

So due to popular demand, we appended to the 2013 speech detail first released last week the full breakdown of Hillary's and Bill's 2014 and 2015 speeches which had been provided previously as part of her mandatory disclosure in May of this year.
As Politico cautions, the disclosure omits an unknown number of speeches that the Clintons delivered while directing the payment or honoraria to the Clinton Foundation, despite instructions on the and guidance from the U.S. Office of Government Ethics, saying that honoraria directed to a charity should be reported.
Still, as readers will note, even the "modest" data that Hillary chose to share is quite stunning.
We hope it will surprise nobody that the bulk of speeches were bought and paid for by Wall Street and affiliated "financial entities" because that's what hollow populist pandering is all about – pretending to be an "everyday American" while getting paid tens of millions by Wall Street and America's biggest corporations.
How many millions?
Since 2013 Bill Clinton has been paid $26.6 million for 94 speeches; Hillary's grand total is slightly less: $21.7 million for 92 private appearances.
Below we present the full breakdown of every publicly disclosed speech event by Hillary Clinton, together with the associated fee.
Continued at link
_________________________________________________________________________________